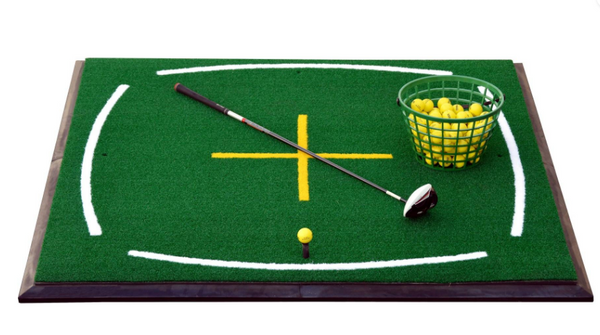 The Premium Teaching Mat is the most stylish range mat on the market today.

Most mats that have a marking is either painted or glued, but our Premium Teaching Mat is pre-embedded, which means from the very beginning of the production, marks are exactly aligned, embedded, then processed as a whole mat and the turf will not fall out.

The Premium Teaching Mat adds the stylish design on the already durable range mat on the market, providing a solution for driving ranges looking to replace older ideas to improve the overall quality of the facility.

Top Range Premium Teaching Line Mat is the impeccable choice for teaching professionals for lessons, as the range mat offers everything that Top Range mats provide plus the easy-to-see swing paths and stance position lines.
Nylon 6-6 premium turf

Pre-embedded swing path and alignment position markings are        permanently glued and will not fall out

German BASF glue prevents turf from separating/delaminating the mat
Premium NBR cushion foam boasts extremely durable shock                      absorption, 

providing comfort through every swing

1 tee hole each side
Traditional dark green turf color with pure white swing path                        turf, and bright yellow alighnment position turf
Turf does not melt off/sticks on golf clubs
Mat does not curl
Functions without failure for years of use
Realistic shortgrass/fairway feeling
5' x 5' full size mat